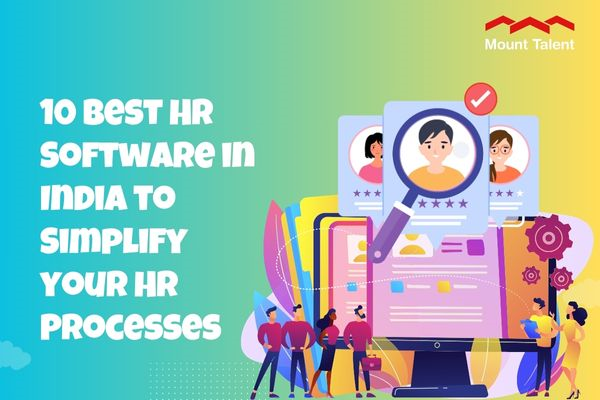 10 Best HR Software in India to Simplify your HR Processes
Selecting the right Human Resources (HR) software is crucial for streamlining various HR processes, improving efficiency, and ensuring compliance with labor laws in India. Navigating the vast landscape of HRMS software in India can be quite a challenge when it comes to finding the ideal fit for your company's needs. We understand the critical role played by the human resources department, as it oversees a company's most valuable asset – its workforce.
For this reason, it is imperative that HR professionals have the time and tools necessary to focus on the development and well-being of the company's employees. To simplify this process, we've compiled an extensive catalog of the finest HR software options available in India. This compilation empowers you to make informed decisions by enabling you to compare factors such as pricing, user reviews, features, and more. But before we check the list, here are some quick benefits of using an HRMS for your business!
Benefits Of Using An HRMS For Your Business!
1. Efficient Management of Employee Database
HRMS centralizes employee information, making it easily accessible to the company and reducing the need for 'tiring' manual record-keeping. The data management includes keeping effective record keeping of personal details, employment history, performance evaluations, and more.
2. Automating the process of Payroll Management
With just a few clicks, HRMS can automate the process of payroll calculations, tax deductions, and direct deposit, reducing errors and saving time during each pay cycle. It ensures accuracy and compliance with tax laws.
3. Time and Attendance Tracking
Manual attendance tracking is a tedious task- it is nearly wasting your precious time on unnecessary practices that could be smartly handled with innovative solutions. With HRMS, tracking employee attendance, leaves, and working hours becomes effortless. It allows for real-time monitoring, which is particularly useful for remote or mobile workforces.
4. Recruitment and onboarding Streamlining
HRMS systems often include applicant tracking and onboarding modules, simplifying the recruitment process. This leads to faster hiring and smoother integration of new employees.
5. Breeds transparency in performance management
HRMS enables the creation of performance evaluation templates and automated reminders, making performance reviews more consistent and timely. This aids in identifying and nurturing talent within the organization.
6. Employee Self-Service (ESS)
ESS features in HRMS allow employees to access their own data, request leave, update personal information, and view pay stubs. This reduces the administrative burden on HR teams.
7. Compliance and Reporting
HRMS systems often have built-in compliance features that help organizations adhere to labor laws, industry regulations, and reporting requirements. This reduces the risk of legal issues and penalties.
8. Enhanced Decision-Making
HRMS provides access to data-driven insights and analytics, allowing HR professionals and decision-makers to make informed choices regarding workforce planning, talent acquisition, and performance improvements.
9. Cost Savings
By automating HR processes, organizations can reduce the need for manual data entry and paperwork. This not only saves time but also cuts down on administrative costs.
10. Employee Engagement and Satisfaction
HRMS can facilitate employee feedback, surveys, and engagement initiatives, promoting a more positive work environment. It also helps in identifying areas where improvements are needed.
11. Security and Data Integrity
HRMS systems offer robust data security features, ensuring that sensitive employee information is protected from unauthorized access or data breaches.
12. Scalability
As businesses grow, HRMS can easily scale to accommodate additional employees and HR needs without significant disruptions.
13. Remote Work Support
In the age of remote work, HRMS systems provide remote access for HR professionals and employees, making it easier to manage HR functions regardless of location.
14. Environmental Sustainability
By reducing paper usage and streamlining processes, HRMS contributes to environmental sustainability efforts.
List of Top 5 Best HR Software
1. Rozgar HRMS
Rozgar HRMS enables a stop solution for AI-based Enterprise HRMS. From automating workflows to productivity measurement, and actionable insights about the workforce, the platform provides a complete hire-to-retire solution for enterprises and SMEs. Some key features of Rozgar HRMS are as under:
Employee Lifecycle management
Workforce management
Payroll management and statutory compliances
Attendance and Leave Management
360 Degree performance management
Employee Engagement Management
Real-time Helpdesk
Enterprise communication
Expense Management
Mobile App for Employees
Key Benefits
Geofence and geo-tagging
Localization
Multi-Level Approval Workflows
AI chatbot-based Helpdesk
Latest Technology Stack
2. Keka
Keka is AWESOME! Keka is an Indian HR and payroll software that offers features like payroll processing, leave management, attendance tracking, and performance management. It is suitable for both small and large businesses. Just as the word suggests in Telugu, Keka brings employee friend HRMS solutions for some of the biggest clients like upGrad, One Plus, Vedanta, Dream 11, and so on. Some remarkable features of Keka HRMS are as under:
Payroll Management Software
Expense Management Software
Employee Finance Management
Compensation Management
Leave & Attendance Management Software
Mobile Application and GPS tracking
Onboarding Management
Offer Management Software
Recruitment Management Software
Performance Management Software
HRIS, MIS & Analytics
3. Zoho People
Zoho People is a cloud-based HR software that provides a comprehensive suite of HR management tools, including HR analytics, attendance management, performance appraisal, and recruitment.
Zoho People is a cloud-based HR software that provides a comprehensive suite of HR management tools, including HR analytics, attendance management, performance appraisal, and recruitment.
Key Features of Zoho People:
HR Database
Core HR
Onboarding
Performance Management
Case Management
Customizations
Employee Self-Service
HR Documents
Analytics
Time and Attendance Management
4. Kredily
Kredily is an Indian HR software known for its ease of use and payroll processing capabilities. It also includes features for attendance management, leave tracking and compliance.
Key features of Kredily:
Workforce Management
Employee Onboarding
Video Conferencing
Chat and collaboration
Bonuses, Loans, and Advances
ESS Management
Arrears Calculation
Data Security
Integration with Biometrics
PF/ESIS Calculation
Salary Information and History
5. SumHR
SumHR is a cloud-based HR and payroll software that caters to businesses of all sizes. It provides features for attendance management, leave tracking, performance appraisals, and more.
Quick features of SumHR:
Comprehensive HRIS/ Employee Records
Onboarding, Applicant Tracking, Exit
Approval Workflows
Performance Management
Finance/IT/Travel Helpdesk
Expenses Claims
HR and MIS Reports
Leaves/Time-off tracking
Biometric Device Clock-in
Web Attendance Management
Online Payroll
| Feature | Zoho People | Keka | SumHR | Kredily | Rozgar HRMS |
| --- | --- | --- | --- | --- | --- |
| Employee Database | Yes | Yes | Yes | Yes | Yes |
| Management | | | | | |
| Payroll Processing | Yes | Yes | Yes | Yes | Yes |
| Attendance and Leave Management | Yes | Yes | Yes | Yes | Yes |
| Recruitment and Onboarding | Yes | Yes | Yes | Yes | Yes |
| Performance Management | Yes | Yes | Yes | Yes | Yes |
| Employee Self-Service (ESS) | Yes | Yes | Yes | Yes | Yes |
| Compliance and Reporting | Yes | Yes | Yes | Yes | Yes |
| Analytics and Insights | Yes | Yes | Yes | Yes | Yes |
| Mobile Accessibility | Yes | Yes | Yes | Yes | Yes |
| Security | Yes | Yes | Yes | Yes | Yes |
| User-Friendly Interface | Yes | Yes | Yes | Yes | Yes |
| Scalability | Yes | Yes | Yes | Yes | Yes |
| Applicant Tracking System (ATS) | Yes | Yes | Yes | Yes | Yes |
Other 5 HRMS Solutions for India:
6. Pocket HRMS:
Pocket HRMS is designed for Indian businesses and offers payroll processing, leave management, attendance tracking, and statutory compliance features.
7. Sapience Buddy:
Sapience Buddy offers workforce analytics and productivity management solutions. It helps businesses understand employee productivity and optimize work processes.
8. GreytHR:
GreytHR is a comprehensive HR and payroll software designed for Indian businesses. It covers payroll processing, attendance management, leave management, and statutory compliance.
9. Darwinbox:
Darwinbox is an HR software that offers a wide range of HR functions, including recruitment, performance management, payroll, and analytics. It is suitable for enterprises.
10. BambooHR:
BambooHR is an easy-to-use HR software known for its user-friendly interface. It covers HR essentials like employee records, onboarding, time-off tracking, and performance management.
Common Frequently Asked Questions About HRMS!
Q 1. What is HRMS (Human Resource Management System)?
Answer: HRMS is a software system that helps organizations manage HR functions, including employee data, payroll, and more.
Q2. What are the key features of an HRMS?
Answer: Key features typically include payroll processing, attendance tracking, performance management, and employee self-service.
Q3. How does HRMS benefit businesses?
Answer: HRMS streamlines HR processes, enhances data accuracy, improves compliance, and boosts overall HR efficiency.
Q4. Is HRMS suitable for small businesses?
Answer: Yes, many HRMS solutions are scalable and can be adapted for small businesses to manage HR functions effectively.
Q5. Is HRMS only for HR professionals?
Answer: No, HRMS often includes an Employee Self-Service (ESS) feature, allowing employees to access and manage their own data.
Q6. How does HRMS ensure data security?
Answer: HRMS systems employ encryption, user authentication, and role-based access control to safeguard sensitive HR data.
Q7: Can HRMS handle complex payroll calculations?
Answer: Yes, HRMS can automate complex payroll calculations, tax deductions, and direct deposits, ensuring accuracy and compliance.
Q8: Is cloud-based or on-premises HRMS better?
Answer: The choice depends on organizational needs, but cloud-based HRMS often offers cost savings, scalability, and accessibility.
Q9: How can I compare and choose the right HRMS?
Answer: Consider factors like features, scalability, pricing, user-friendliness, customer support, and integration capabilities.
Q10: Can HRMS integrate with other software systems?
Answer: Many HRMS solutions offer integration with accounting, CRM, and other systems, streamlining data exchange and workflows.
When selecting an HR software for your business in India, consider factors like your company's size, specific HR needs, budget, and scalability. It's also essential to ensure that the software complies with Indian labor laws and regulations to avoid legal issues. Finally, take advantage of free trials and demonstrations to evaluate the software's suitability for your organization before making a decision.
Selecting the right Human Resources (HR) software is crucial for streamlining various HR processes, improving efficiency, and ensuring compliance with…