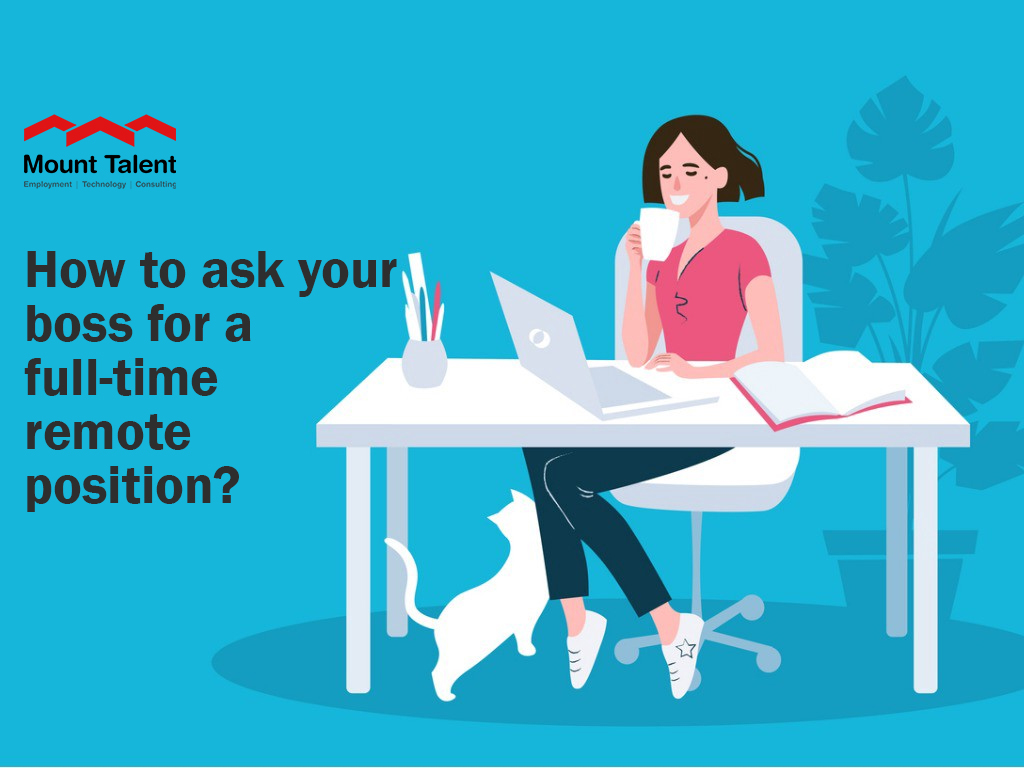 How to ask your boss for a full-time remote position?
The pandemic effect in jobs has opened many new work culture scopes and aspects for the employees globally. Talking about this, one of the leading trends is none other than remote working, which has secured its smooth place in the professional system.
For instance, you love your job but are missing the required flexibility to balance your busy professional life. If this is the case, then you might consider pitching the idea of remote working to your boss.
However, talking about remote working is not considered an easy talk in India. But, if you understand why remote is important, you can, fortunately, increase your chances of approval for your request for remote working.
According to a recent survey, around 70% of the employees work remotely for at least one day a week. On the other hand, some professionals are working remotely full-time.
Moreover, another study revealed that 77% of the employees are more productive when working remotely. It also highlighted that 74% of employees confirmed that they would less likely leave an organization that provided a work from home option.
It is not hard to analyze the popularity of remote working amongst the employees with such statistics. Thus, we have combined some effective tips to ask your boss for a full-time remote working position.
Tips to ask your boss for a full-time remote position –
1.Prepare your discussion:
Before discussing remote working, prepare yourself; don't neglect any aspect of the conversation. Do your thinking and prepare what you have to say with confidence.
Moreover, you can also divide your job responsibilities and explain how you will handle them remotely to your boss. This will even assure your boss that you have come prepared with a plan of handling your duties efficiently while working remotely.
2.Analyze your performance:
Many jobs in India offer a remote working option to their employees; however, you shouldn't neglect performance. To have a conversation regarding remote working will only make sense if you are a top performer. But, if you are not, it doesn't make sense to discuss this with your boss.
If your boss isn't sure of your performance while working in the office, there are fewer chances of getting approval for a full-time remote position. So, before you plan to ask your boss, you should consider –
How have you performed your duties in the past?
What positive feedback have you received?
Were you able to handle any performance glitches in your responsibilities?
How was your relationship and rapport with your manager and co-workers?
If you think these answers work in your favour, you are good to make a move to ask for a remote working position.
3.Focus on your 'why':
Be prepared that your boss will ask for a reason when you request for remote working. Not because they are just curious but also because this decision will impact your co-workers and the working environment.
Your answer may include different aspects of the pandemic effect in jobs, but you should be clear on your 'why'. Giving proper justification to your boss will help enhance your chances of getting your boss's approval.
4.Work on a plan:
Choosing a full-time remote position will drastically change your workflow and how your company responds to that. Therefore, you should be well-prepared with a plan to put all things together.
Providing practical and potential solutions to your boss's concerns can help you go a long way. Moreover, it will show your efforts to think why remote is important and understand how it will impact your and others' work.
To make an effective plan, simply put yourself in your boss's shoes and then think about the entire situation. Try to convince your boss with an effective and practical plan to maintain the same focus and productivity while working remotely.
5.Encourage a trial:
If you are lucky enough to be in those few jobs in India that are open for remote working, you can encourage your boss to have a trial run for the same. The trial run will give a clear perception to your boss if he's still hesitant about the whole idea.
Talk about the collaborative efforts that can work as a solution for everyone. Focus on the following during your trial period –
Maintain the same productivity
Be responsive
Deliver the quantity and quality of your work
Being the same asset for your company during the trial period as before will increase the chances of approval for full-time remote work.
Conclusion:
Adapting to remote working is a big change for you as well as for your boss and co-workers. While your boss may not be 100% on board with the idea at first, your thorough and practical thinking about the pandemic effect in jobs can work in your favour.
Work from home is the new normal, thus, your workforce should be around the idea. Avail the benefits of the staff augmentation services of Mount Talent Consulting to enjoy better performance with remote workforce.
Make sure to focus on doing in-depth research to weigh your opinions before asking your boss for a full-time remote position.
The pandemic effect in jobs has opened many new work culture scopes and aspects for the employees globally. Talking about…