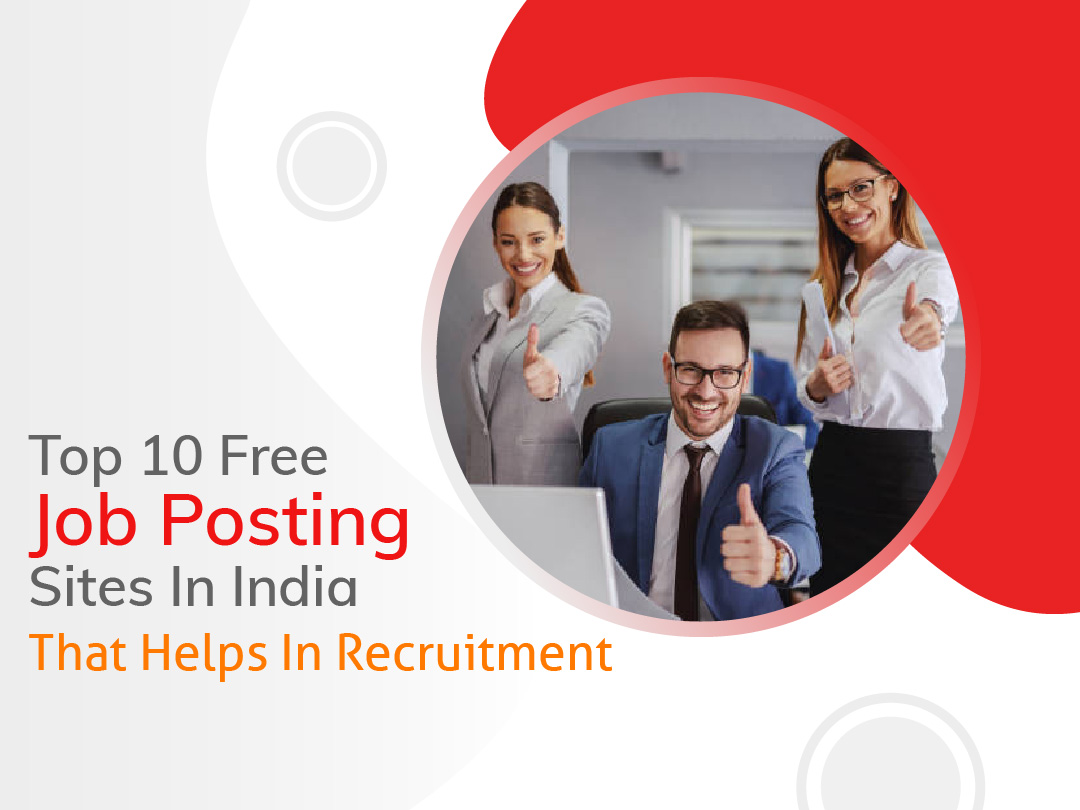 Top 10 Free Job Posting Sites In India That Helps In Recruitment
Finding the right candidate for the desired role is a hefty task for an employer. The most crucial part of recruiting is to get the ideal candidate to apply for the job position. However, we are living in the modern world where everything is online, even jobs can be posted and applied for easily on the internet.
There are various free job posting sites in India where the majority of market giants post their openings and a major number of candidates apply for those positions. No matter size, nature, or domain any company can post their job openings on these free job posting sites.
There are two options where an employer can choose to post their job openings, premium or free. Regardless of the size, companies can do free job postings online.
Top 10 Free Job Posting Sites In India
Below mention is the list of free job posting sites in India where you can post your job openings.
India's largest corporate networking website, LinkedIn has both premium and free job posting options available. However, a thing to note is that you can post only one free job at a time. But if you wish you can subscribe to the premium plan. LinkedIn has emerged as the best job site for employers as one can post jobs, form groups, follow companies, and start conversations easily.
The leading job portal in India for employment beyond territories. Rozgar.com is the best job site for employers where one can post jobs and find the ideal candidate from the pool of thousands. It is a free job posting site and helps tremendously in the formation of your dream workforce. Apart from the free option Rozgar.com also provide various premium plans like featured, premium, and video job posting options.
Employer if you are in search of a job posting site for free then Indeed is the option for you. Emerged as the world's largest job portal Indeed has its origin to help people find employment. Like other job portals, Indeed also have an option for both free and featured job postings. The only drawback is that with free job postings, your opening will go down the search list with time.
Rooted in the United States, Glassdoor offers free job postings online on its Indian portal. Glassdoor has both free and premium options like other job websites. Glassdoor's massive database helps employers post openings and find the right job.
Known for its high-end clients, Placement India offers an option for both premium and free job postings. Many small companies and startups choose Placement India as the best job site for employers. There is massive traffic of job seekers, and it will be only a matter of time before the best candidate will be part of your organization.
Run by the Ministry of Labour and Employment of the Government of India, the National Career Service Portal is an online recruitment portal. It is a part of the Make In India and Skill India initiatives. It allows free job postings in India for all domains and is one of the prominent websites for both employers and candidates. The National Career Service delivers free career counseling for candidates.
Made in India and for Indians, AsaanJobs is emerging as an important job portal among youngsters. For a limited period, an employer can post jobs for free on this job portal under particular categories. Recruitment can be done anywhere in India through Asaanjobs.
To hire freshers and interns, Freshersworld is a portal dedicated to finding fresh graduates and seekers looking for their first job. Posting a job opening on this free job-posting site is possible after registering on the portal. Freshersworld is an ideal place to find new, fresh, and aspiring talents.
If you wish to post your job for a limited time then Career age is the perfect free job postings site. Any level of candidate be it freshers or experienced, someone with low knowledge and someone with high expertise, someone for admin or an IT skilled person, anything can be found on Career Age. It is a great place to find job seekers anywhere in India, including urban, semi-urban, and rural India.
From India to the Middle East to across the continents, job seekers from anywhere and everywhere can be found on Bayt. Known as the prime job-posting website of the Middle East, free job postings can be done after registering with Bayt. Anybody looking to work in India or Indian companies looking for candidates from across the globe, register on Bayt for the best results.
Also Read Benefits Of Full-Time Hiring Services Over Part-Time Hiring
Frequently Asked Questions On Free Job Posting Sites In India (FAQs)
How Can Someone Post A Job For Free Online?
There are various free sites to post jobs online like Indeed, Rozgar.com, AsaanJobs, Bayt, LinkedIn, and so many others.
What is the effective way to job search?
Networking always works when looking for a job. Through this, you will even find jobs that are not advertised publicly.
Why job search is challenging?
Finding your best match is always difficult. A job that satisfies and makes you want to grow and learn, is always hard to find.
Which is better premium or free job postings?
Both points have their benefits. For small organizations, free job postings are always a good idea especially if you want to post your openings for a small time. If your requirements are for a long time then go for premium job postings, as all sites provide free job postings for a limited time only.
Finding the right candidate for the desired role is a hefty task for an employer. The most crucial part of…