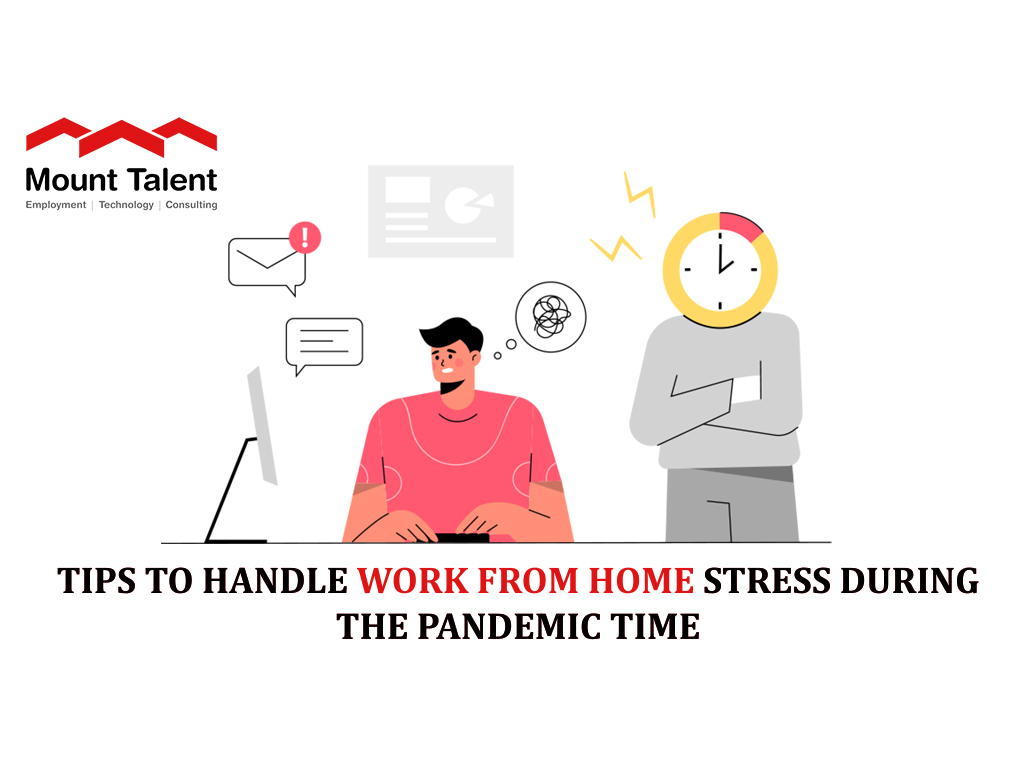 Tips to handle work from home stress during the pandemic time
Work from home is undoubtedly an attraction for many – no commute time, no bossy supervision, no dress code, and the freedom to work at your convenience. However, the new normal work from home brings along some unique and significant challenges. One of the major concerns of remote working is the work-from-home stress.
Many remote workers now feel tired and exhausted with the idea of working from home. The missing professional working environment is one of the major pandemic effects that has demotivated the enthusiasm of many employees.
If not taken into account at the right time, the work from home stress can have harmful effects on physical and mental health. Do you know around 80% of remote employees consider quitting their job because of the alerting mental health issues?
Undoubtedly, work from home stress is dangerous. Fortunately, you can easily manage stress with proper care and attention while maintaining your productivity.
Care enough to know some effective tips to handle the concerning remote working stress during pandemic times? Here is something to interest you.
The common symptoms of work from home stress:
Before moving towards the effective tips to manage the stressful remote working environment, you should be aware of the common symptoms of stressful working. According to the World Health Organization (WHO), the following are the common symptoms of a stressful working environment during the COVID-19 time:
Workplace burnout
Lack of attention and concentration
Reduced professional productivity and efficiency
Constant irritation, tiredness, and mood swings
Lack of job satisfaction
Degraded physical health – headache, body aches, indigestion, irregular sleep cycle, etc.
Lack of enthusiasm and energy levels
If these symptoms have already created chaos in your personal and professional life, we recommend you consult a health expert.
Tips for handling and managing the work from home stress –
The work from home employees often struggles with the idea and concept of managing their professionalism. Moreover, many find it difficult to end their working day at a specific time and thus, lack the much-needed work-life balance.
According to a study, nearly 41% of remote working employees feel highly stressed due to the significant pandemic effects compared to non-remote employees. If you are also struggling with remote working stress, we have the right, simple and effective tips for you.
1.Create and stick to a well-planned routine:
Having too much to do in a day is one of the significant pandemic jobs effects for stress. The total amount of work you deal with regularly makes all the difference for your mental health.
One of the simplest ways to follow is planning, creating, and sticking to a routine to avoid the consequential stress of having too much work. Schedule your meetings, prioritize your work, create an organized ritual, and use the available technology to break down the day-to-day challenges.
Creating and following a well-planned routine proves helpful in completing your professional commitments and ensuring an enjoyable personal time.
2.Narrow down your distractions:
With so many distractions around you, it can be difficult to focus on your professional tasks. Do you also find yourself distracted by so many things happening around you at your place?
Don't worry; you are not alone. There are many others stuck in the vicious circle of distraction which results in a lot of pending work and lacking concentration.
However, dealing with the COVID-19 scenario is quite simple. You have to narrow down the distractions around you. Put your phone on silent mode; turn off the constant notifications, reduce the disturbing noises, etc.
For better concentration, you can listen to your favourite relaxing music. You can also follow the 90-20 rule. Work with utmost concentration for 90-minutes and then relax with your favourite activity for 20-minutes to feel fresh.
3.Appreciate your achievements:
One of the major pandemic jobs effects for remote workers is to feel motivated. It can be a real challenge to maintain energetic and enthusiastic professional surroundings at your home.
To maintain a high level of motivation, all you need is a simple effort – appreciate your achievements. Break down your daily tasks; focus on convenient efforts, prioritize your energy and efforts and then simply reward yourself for completing them. You can reward your efforts with anything you desire. Take a deserving break to feel motivated and fresh to bounce back at the next task.
4.Focus on your health:
Last but not least, to overcome the challenging COVID-19 stress, never miss paying focus to your health. Encourage the thought of self-care. Take time for things important to you, other than the professional tasks.
Your self-care may include –
Regular exercise sessions
Meditation
Connecting with your friends in your free time
Taking regular naps
Doing your favourite activity like reading, listening to music, etc.
Conclusion:
You may have many reasons to feel work from home stress; however, overcoming the same should be your priority. With these simple and effective tips, you can easily reduce the remote work challenges and improve your health and work-life balance.
To develop your compatible work from home professional team, contact Mount Talent Consulting. We have years of experience to help you find suitable candidates.
Work from home is undoubtedly an attraction for many – no commute time, no bossy supervision, no dress code, and…