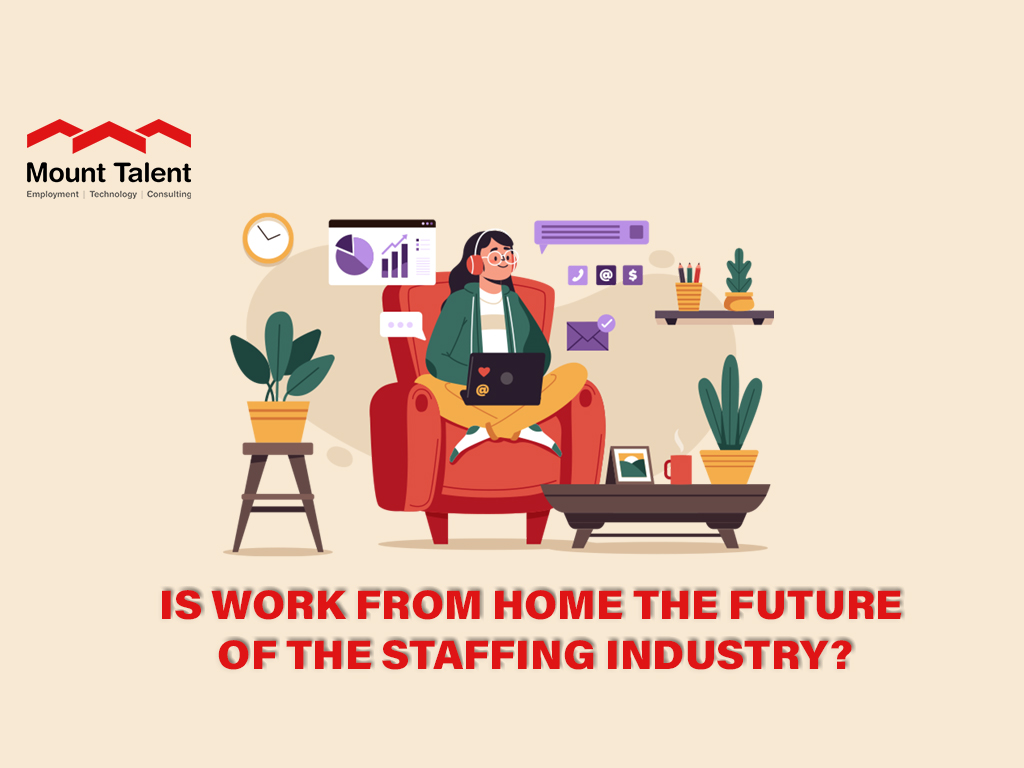 Is work from home the future of the staffing industry?
Work from home has been the leading staffing trends in India ever since the spread of COVID-19. Many big names are adjusting their work strategies according to this new normal trend. As organizations welcome work from home opportunities, making significant changes in workplace culture will play a crucial role.
Can work from home be seen as the future of the staffing industry? Is work from home here to stay?
Let us understand the concept for better understanding. We are here with all the detailed aspects of work from home opportunities that might interest you to shape the advanced trends for your next staffing needs.
What is remote working?
Remote working is simply to work from anywhere outside the office. This concept allows the employees to manage a remarkable balance between their personal and professional life. Moreover, the work from home 2022 trend allows employees to work from their favorite place like their home, a coffee shop, or maybe a beach.
During the initial transition, many employees faced a hard time adjusting to this new normal working condition. However, this trend has gained extreme popularity over time amongst the employees. As a result, it has become the new normal in staffing trend.
Is work from home the future?
As almost everyone has tasted the benefits of remote working, it won't be wrong to say that things are unlikely to get back to the old normal. Even after the release of the pandemic crisis, many organizations have happily accepted the continuation of work from home culture.
According to many industry experts, working from home is gaining popularity with every passing day. It is further expected that its popularity will gain more momentum in the coming time. Work from home is what people are willing to do with the support of the current advanced technologies.
What benefits can be expected from working from home?
Work from home 2022 has not just improved the employees' productivity but has also shown great enhancement in organizational revenue. This trend has opened several opportunities for everyone with many benefits.
Here are some of the attractive benefits of work from home –
1.Improved work-life balance:
Without any doubt, the topmost benefit of working from home is getting better and enhancing work-life balance. With no worries of daily commuting, the employees get a lot of free time to invest with their families, friends, or any other important thing.
It also attracts the benefits of flexible working hours for the employees. As a result, it becomes easier for the employees to manage their tasks and responsibilities perfectly without affecting their professional life and productivity.
2.Improved productivity:
Another appealing benefit of working from home is improved productivity. It has been observed that work from home has helped the employees to improve their productivity many times across all essential parameters.
With better work-life balance and added flexibility to the monotonous routine, employees can enjoy the benefit of increased productivity. This, in return, proves beneficial for boosting an organization's profit numbers.
3.Attracting better talents:
Keeping their pace with the changing normal work scenarios, many organizations offer different attractions to their talent. For example, many organizations are offering remote working for at least 1 day a week to retain existing employees and attract new ones.
The other organizations who have still not accepted these changing staffing trends in India are lacking behind. Many talents stated that they would leave their job if it doesn't offer flexible work timings.
If you need any help to attract the right talent for your company, reach out to Mount Talent Consulting. Our experienced team members and staffing services assure you the best results within no time.
4.Boost employee engagement:
It is not just the employee productivity that gets enhanced by work from home culture. It has been observed that employees working remotely are happier than those working from the office. This results in attracting the loyalty of the employees.
Moreover, the remote workers confirm sticking to their present organization for many years. Considering the cost of new recruitment, it is a strong factor that no organization can afford to ignore.
However, engagement depends on the employees' personal choice, but these factors contribute a major influence.
5.Cost-effectiveness:
Every organization takes many crucial steps to control the operational cost. While work from home proves a cost-effective choice for the employees by reducing the commuting expenses, it is the same for the organizations.
By making room for this new normal in staffing, organizations can save a lot of expenses. With larger team portions working remotely, the organizations can control the office expenses, accommodation expenses, operational expenses, etc.
The saved amount can be better utilized for other essential parameters for the growth and development of the organization.
Tips for embracing work from home opportunities:
Choosing work from home over work from the office is a big step. Thus, every employee should be aware of the tips to embrace the journey of work from home 2022. Here are some of the tips that can be helpful:
Make adjustments to accommodate the right space
Set a desirable schedule
Make space for breaks
Maintain regular communication with team
Learn the required advanced technologies
Keep a check on your communication style
Don't hesitate to ask for support
Conclusion:
Work from home has created an attractive opportunity to redefine the current work culture using staffing trends in India. The opportunity has its appealing benefits for both employees and organizations and thus, should be embraced with open hands.
Considering the above benefits, it is right to say that work from home is here to stay for the longest time that you can imagine. Indeed, it is the future of the staffing industry!
What are your thoughts about this? Let us know in the comment section.
Work from home has been the leading staffing trends in India ever since the spread of COVID-19. Many big names…