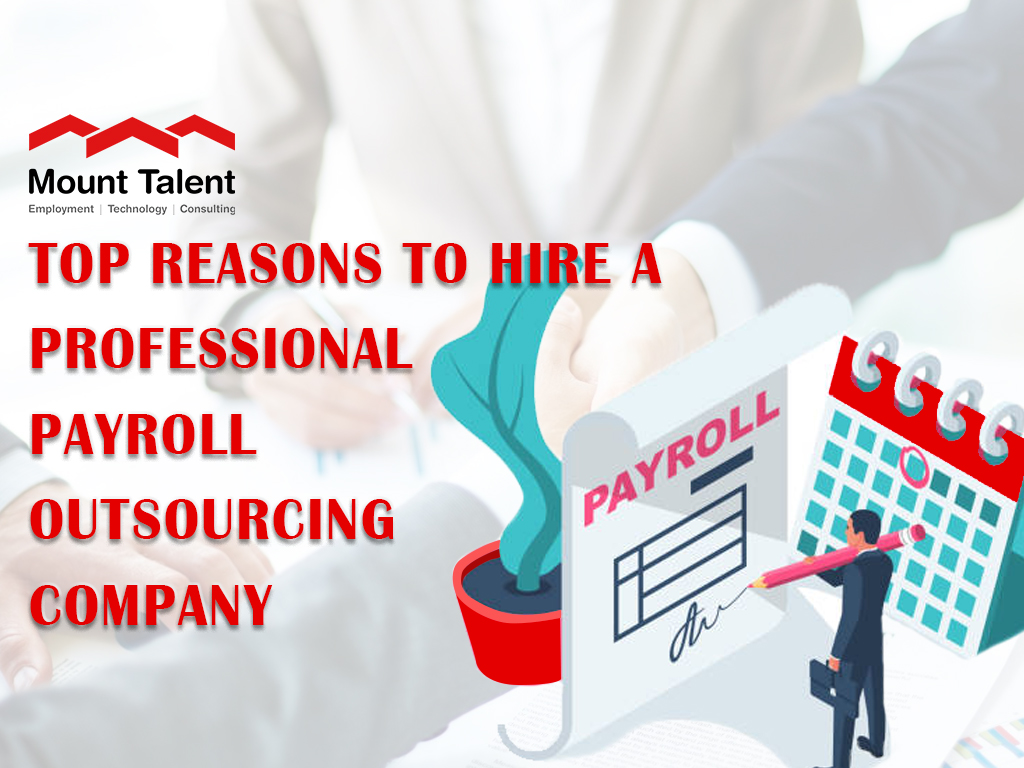 Top Reasons to hire a professional payroll outsourcing company
Every business is making efforts to embrace the path of digitization. On the path of advancement, payroll employee management is a significant part of ensuring development and success.
While some businesses prefer managing the payrolls internally, it can be tricky for many others. However, the on-going pandemic crisis has made it quite obvious for businesses to consider the importance of outsourcing payroll management.
Every business understands the pressure and efforts involved with effective payroll management. Thus, it is important to understand the concept along with the various benefits of small business payroll.
What is payroll outsourcing?
It is the service, offered by a 3rd party to the company, concerning all the desired legal, accounting and tax support. It reduces the risks associated with the accurate management of employee payroll. Amongst the various benefits of payroll services, one of the topmost is to ensure that the employees receive their salaries and paychecks on a timely basis.
Many companies are enjoying effective management of payroll by simplifying legislative compliance. Moreover, it also relieves the in-house teams from the hassles of large administrative burdens.
Some of the main functionalities of the outsourced employee payroll management are as follow –
Registering and controlling various incidents
Calculating, distributing and paying the payroll on a timely basis (weekly, monthly, biweekly, etc.)
Simplifying the complex data protection legislation
Ensuring seamless global operations for effective payroll management
Calculating the additional benefits for employees like vacations, commission, incentives, pre-retirement payments, etc.
Is payroll employee management really worth it for your company?
Organizations of every size leverage the best benefits of payroll services to ensure gaining a competitive edge. Before finalizing any name for payroll management, the organization should carefully analyze its offered services and the technology used.
It is quite obvious to struggle with the dilemma of choosing a payroll management service. However, these services are quite important for an organization if –
There is no finance and administrative management in-house team
There isn't any payroll expert to handle the international payroll management
There is no continuity and consistency in payroll management
There is a need to focus on more strategic tasks, other than payroll, by the finance and administrative team
Understanding these factors, you can make a wise decision to ensure if payroll employee management is the right choice for your company or not.
Benefits of payroll employee management –
If you are still in a dilemma to understand if payroll employee management is worth it for your organization, here are some of its benefits to convince you thoroughly.
1.Time-saving:
Handling the various payroll activities and functionalities is not a cake walk. It requires focused and determined efforts to ensure its smooth functioning. The most common and predictable benefit of outsourced payroll management is time-effectiveness.
The payroll department in any organization takes care of – new hires, terminations, benefit deductions, etc. Moreover, any minor change in the regulations further increases the complications.
Outsourcing the process can unburden the in-house team from all these time-consuming tasks. As a result, the in-house teams can focus on other core requirements with 100% accuracy and precision with the available time. Strategic payroll management also ensures competitive advantages.
2.Cost-effectiveness:
Do you know cost-effectiveness is one of the prime benefits of small business payroll? You can save many millions with payroll outsourcing, especially if you are a startup with limited resources and workforce.
Simply compare the cost incurred when your in-house team manages the payroll against when you outsource the function. You will surely notice a huge difference. The same saved amount can be used to better other crucial activities of your business.
Considering the benefit of cost-effectiveness, many small and medium-sized businesses are making a smart move of outsourcing their payroll management.
3.No additional cost:
If you have an in-house team to manage your payroll functions, additional costs for paid software would be needed. Also, since you would need the latest tax slabs and tables for your system, you need timely maintenance and software updates.
This attracts nothing but add cost to the company. It also ensures the reduced risks of incorrect data security and filling, leading to severe penalties. Thus, you can avoid spending these additional costs by outsourcing the payroll management to a reliable and trusted name.
4.Professional expert assistance:
One of the significant benefits of outsourcing payroll management is getting assistance from expert professionals. Outsourcing the process gives the organization access to professional and experienced professionals who are well-aware of the various concerning regulations.
Other than the general payroll management, the professionals also address the other related issues, which are the additional benefits. While searching for the best payroll management outsourcing, make sure to investigate the various services/benefits it offers.
If you are searching for professional and experienced experts to outsource your payroll management, Mount Talent Consulting is the right name to rely on. We have a team of the well-trained and passionate workforce to ensure all benefits of payroll employee management.
5.Increased security:
Payroll management is a complex process that requires a keen eye for details. It requires constant and continuous monitoring of all the data.
But, if a single person manages these various activities, there are high chances of errors, mistakes or complications. Without appropriate payroll services benefits, tampering with the company's data can be a possibility that can hinder its smooth growth.
A reputed and well-known payroll management provider can keep all these concerns in place. Moreover, the use of the latest and advanced technologies can assure timely alerts for any fraud or mishappening.
It is impossible to get the same precise and accurate data security from the in-house payroll management team. Therefore, outsourcing payroll management makes a wise call.
Conclusion:
The above-mentioned benefits are clear evidence that an outsourced payroll employee management is a better option than having an in-house payroll team. A reputed and carefully chosen payroll management company like Mount Talent Consulting can aid the routine hassles to complement the quickly and rapidly evolving workforce.
If you need any other related information about the benefits of payroll outsourcing, get in touch with us in the comment section. We assure delivering the earliest response.
Every business is making efforts to embrace the path of digitization. On the path of advancement, payroll employee management is…